Quality Screens for Any Viewing
Whether you're watching a series finale with a couple of your closest friends or hosting an epic event for thousands of people, Hollywood Outdoor Movies has the screen for you to ensure that each of your guests doesn't miss a minute of the action.
And, get crystal clear picture with projectors that deliver up to 15,000 lumens coupled with top quality speaker systems, to make each viewer feel like they're actually in the movie, TV show, or at the big game!
Whatever the Event, We've Got You Covered!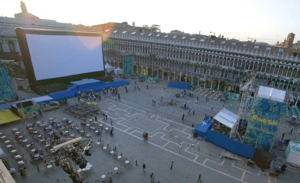 Planning a huge festival or a major event? Broadcast live to ensure that everyone is in on the action when you highlight the act, game, or speaker on the biggest of screens!
Perfect for 7500+ People!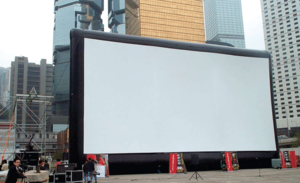 Host huge drive-ins, give conference sponsors a way to advertise their products and services that attendees are sure to notice, and more with the Blockbuster!
Perfect for 5000-7500 People!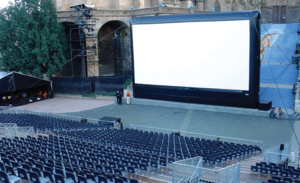 Take your outdoor movies to the next level with The Dynasty. Get the cash flowing with food trucks and ticket sales. Have licensing questions? We can help!
Perfect for 3000-5000 People!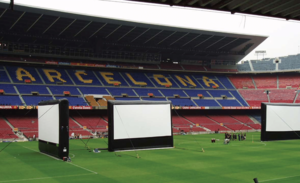 Watch the big game on away days. Be a part of it all at large events and festivals. Get a close-up experience, even from miles away, with the Box Office Smash!
Perfect for 1500-3000 people!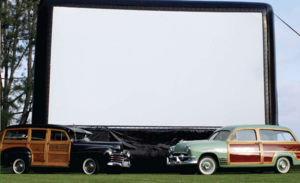 Ideal for corporate and organizational events. Host a drive-in, show a movie at the company picnic, and more with the Premiere!
Perfect for 750-1500 People!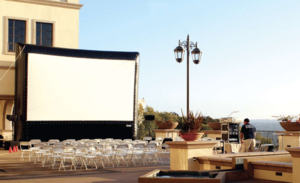 Bring students closer together with family nights at school, build communities with movie nights for local governments, and more with the Cult Classic!
Perfect for 500 – 750 People!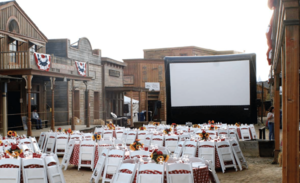 Add live broadcasts to your wedding. Drive more traffic to your Farmer's Market. Screen a movie on your next birthday and more with The Red Carpet!
Perfect for 250 – 500 People!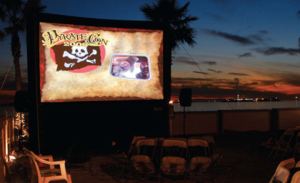 Pop a movie screen up by your public pool, watch a movie or the big game in your own backyard, and more with the Backyard Party!
Perfect for 100 – 250 People!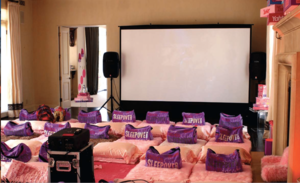 Get crystal clear clarity for slideshow presentations at your expo or watch the championship game or show inside on the big screen with the Conference!
Perfect for 5 – 100 People!
Get a Quote or Book Your Next Event Today!
See What People Are Saying About Us:
"We had a great experience with our Flicks at the Fountain summer movie series here in Carlsbad Village"
- Ashley W.
"Thanks again for all of the extra help with this event."
- Cassie C.
Allied Integrated Marketing,
'The Cool Kids' Advance Screening
"I do want to thank you and your crew for all of the effort in making the event come together. That was a big production, and you showed a tremendous amount of commitment to the success of the event."
- Billy Z
Allied Integrated Marketing,
Die Hard 30th Anniversary
"Thank you for all your help and willingness to go the extra mile to make it perfect.  I really appreciated that!  Also, thanks for making us look good over the past years."
- Leslee G.
Visit Oceanside® Conference & Visitors Bureau,
President/CEO